This event is in the past.
May 14, 2019
|
6:00 p.m. - 8:00 p.m.
Location:
Bamboo Detroit
1420 Washington Blvd., Suite 301
Detroit, MI 48226
Audience: Academic Staff, Alumni, Current Graduate Students, Current Undergraduate Students, Faculty, Staff
Connect with fellow alumni professionals and friends who are currently working in or pursuing entrepreneurship at the WSU Alumni Association's Alumni Entrepreneur Panel.
The expert panel will share best practices, resources and the knowledge and tools needed to become a successful entrepreneur.
Panelists include:
Cindy Eggleton '85
Co-founder and CEO of Brilliant Detroit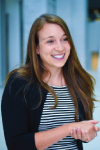 Amanda Lewan '12
Co-founder and CEO of Bamboo Detroit
Lydia Michael '09
Founder of Blended Collective
Jayashree Ravi '06
Founder of Mobi Boot Camp Corp

Moderator
Mark S. Lee
President and CEO of The LEE Group
This event is free, but reservations are required.
For more information about this event, please contact Office of Alumni Relations at 313-577-2300 or
wsuaa@wayne.edu
.
81976
sba