Virtual Heart Walk - June 13
This event is in the past.
Dear WSU Warriors with Heart,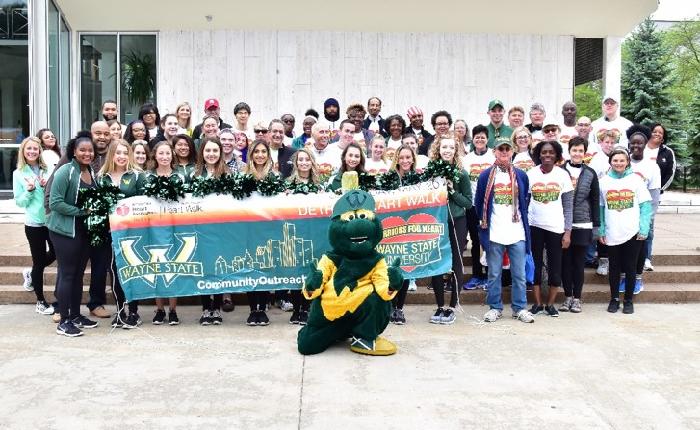 As you may know, the American Heart Association Metro Detroit Heart & Stroke Walk/Run is going virtual on June 13. With the weather finally cooperating, it is a great opportunity to get outside and do something fun and good for your heart! We encourage you to consider participating in the walk virtually with your family and walk/run where you are! The Heart Walk team has some great virtual opportunities planned to help make the day extra special, including a virtual opening ceremony, survivor tribute, top dog contest, a virtual run leaderboard and more! Thank you to all of our WSU Heart Walk Coaches and Walkers already registered and ready to participate! There is still time to participate for those of you who are interested.
How to Participate
Register on the Heart Walk website: CLICK HERE

(if you haven't already)

Facebook:

Invite friends/family/colleagues to virtually walk/run with you
There are so many different way for you to engage and participate leading up the Walk as well as on the day of the Virtual Walk! Check out the event details, including a Virtual Heart Walk Toolkit on the AHA website HERE and check back often for updates!
If you'd like to learn more, AHA is hosting a Virtual Heart Walk Rally at noon on Friday via Zoom. For any questions, contact Chris Rettich: chris.rettich@heart.org or 586.216.9471.
Don't forget to update your Facebook profile picture with this great Facebook Frame too!
Thank you for your participation and support…it is more critical than ever to the mission of the AHA. Happy Walking/Running!
With heart,
Phillip Levy, MD - Detroit Heart Walk Co-Chair
Contact
Julie O'Connor
7344-748-4207
julie.oconnor@wayne.edu
Cost
Free
Occurring
Daily until June, 13th 2020
Calendars
Technology Commercialization
,
Sponsored Program Administration
,
ResearchOne
,
Research Integrity
,
Research Events
,
Research Development
,
Research and Discovery
,
Office of Environmental Health and Safety
,
Office of Alumni Relations Calendar
,
Medical Campus Events
,
Main Events Calendar
,
Integrative Biosciences Center (IBio)
,
Integrative Biosciences Center
,
Institute of Environmental Health Sciences (IEHS)
,
Division of Laboratory Animal Resources
,
CURES
,
Coronavirus: COVID-19
,
College of Pharmacy and Health Sciences
,
College of Engineering
86277
techtransfer